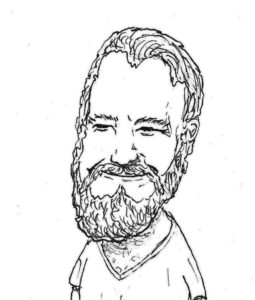 Designer, editor, author, and independent publisher.
Contact me for your freelance design or editing needs.
Contact
Software Skills
Adobe Creative Suite: InDesign, Illustrator, Photoshop, and Acrobat.
Web development with HTML, CSS, and PHP. Social media and email management.
Microsoft Office suite, including Word, Excel, PowerPoint, and Publisher.
Recent & Relevant Experience
Copywriter
May 2020 – Current // Sparx Publishing
Writing blog posts, social media, and email campaigns.
Designing graphics for social and video platforms.
Working with a team of editors, designers, and project managers to produce high-quality content marketing material.
Production Designer
Sept 2019 – Dec 2019 // Mountain West Studios
Extensive image correction and composite design.
Designing business cards, staff cards, and assorted collateral.
Print production for mailouts and yearbook design.
Production Director
Feb 2019 – Apr 2019 // Pacific Rim Magazine
Built print production checklists and guidelines.
Oversaw the magazine production sequence, managing the production team and liaising with other departments.
Worked extensively in InDesign, Photoshop, and Illustrator to ensure prepress guidelines were followed.
Founder and Editor
Aug 2015 – Aug 2019 // Strange Creatures Publishing
Wrote, illustrated, and published seven zines.
Collaborated with a community of artists and writers.
Made ancillary merchandise (screen printing t-shirts, pressing pins, etc.)
Organized two successful Kickstarter campaigns.
Communications Assistant
Mar 2014 – Aug 2014 // Office of Hon. Rob Moore, MP
Drafted press releases, ten-percenters, newsletters,
and correspondence.
Managed MP email accounts, physical mail, and phones.
Interdepartmental liaising.
Education
Diploma in Publishing
Aug 2019 // Langara College
Courses in Adobe CS, graphic design, typography, web development, print production, editing, and marketing.
B.A. Political Studies
May 2013 // Trinity Western University
Concentration in Social Studies, including a number of courses in BC history.
Other Experience
Published in three editions of [Spaces] Literary Journal.
Founder and editor of The Undercurrent, a small community publication at TWU.
Volunteer copy editor and contributor for the Mars Hill student newspaper.
Office Assistant for John Weston, MP: event planning, financial disclosure, correspondence.
Other Sites